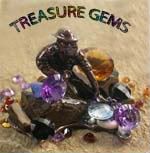 TREASURE GEMS PRESENTS: PERIDOT FROM SPACE!!!
This is an incredible peridot from a pallasite meteroite that contains gem quality peridot in a iron / nickle matrix.
This is what pallasites look like before the peridot is removed:
Pallasite meteorites are very rare. To date only 61 are known with a mere four of those having been observed while falling. According to Natural History Department Director Thomas Lindgren, "Less than 1% of all meteorites are pallasites, the most alluring of allmeteorites due to their aesthetic appeal." Pallasites - meteorites composed of approximately 50% olivine and peridot crystals and 50% nickel-iron – are thought to be relics of forming planets.
Bid now to win your own piece of an ancient planet!!!

Size: 2.6 x 2.6 mm

Weight: 0.07 cts

Grade: VS

Cut: Round

Gemstone classification:

Type 1 Gemstones
The following gemstones are typically inclusion free, even minor inclusions detract from their value.
Diamond, Amethyst, Beryls(Aquamarine,Morganite), Citrine,

Smoky Quartz

, topaz, Chrysoberyl, Kunzite, Tanzanite, green Tourmaline, and Blue Zircon
Type 2 Gemstones
Gemstones that normally have small inclusions that do not detract from value.
Alexandrite, Andalusite, Iolite, Peridot, Rhodolite, Ruby, Sapphire, Spinel, Tourmaline, Garnet, Amethyst, Red Zircon, Tsavorite; Blue, Orange, Purple, Fluorite.Yellow and Parti-colored Tourmaline
Gemstone grading:
| | |
| --- | --- |
| IF | Internally flawless under extreme magnification (Very rare) |
| F | Flawless |
| VVS | Minute inclusions under 10x; invisible to the unaided eye |
| VS | Minor inclusions under 10x; usually invisible to the unaided eye |
| SI1 | Noticeable inclusions under 10x; usually visible to the unaided eye |
| SI2 | Noticeable inclusions under 10x; usually quite visible to the unaided eye |
| I1 | prominent- moderate affect on appearance or durability |
| I2 | prominent - severe affect on appearance or durability |
| I3 | prominent- severe affect on beauty, transparency or durability |
Thank you for viewing my auction and goodluck with your bidding. Hopefully you win some treasure of your own!!
More Information
Certified Gemstones: no
Depth: 1.7 mm
Length: 2.6 mm
Width: 2.6 mm

TreasureGems's Shipping, Handling & Return Policies
Shipping Policy
1 - 3 items:
$4 per item (maximum $12)
4 - 8 items:
$8 total
9 items or more:
Please contact me before bidding as I will be sending you a paypal request with shipping and handling of $15.
Note to Australian buyers: Please add 10% to the winning bid for GST.


Return Policy
Money back guarantee on all items listed. If you are unhappy with your purchase, please contact me to arrange a refund.

Payment Options
Questions & Comments
Ends in

6 hours 4 minutes
---
This buy it now item can be purchased immediately for $200.00 USD
---
Verified Seller Details
---
Shipping

$4.00 USD shipping paid by buyer

Optional Shipping Insurance

$9.00 USD within Australia
$9.00 USD rest of World

Pricing

$2.50 USD bid increment
$199.99 USD starting bid
Reserve price none

Details

Starts April 22, 2014 6:02 PM (PDT)
Ends April 24, 2014 6:00 PM (PDT)
Auction ID 259191
Auction viewed 1025 times
---
You might also like...